Dining al fresco is one of our favorite things to do when the weather gets warm in Oak Ridge, Tennessee! What could be better than savoring a delicious meal as you soak up the sunshine with your friends or family? To help you make the most of your next trip to the Secret City, we have put together a guide to the top five restaurants in Oak Ridge TN with outdoor seating.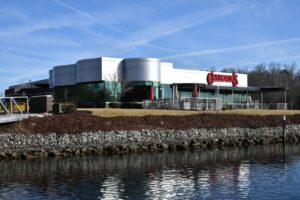 1. Calhoun's
For 35 years, the Calhoun's restaurant chain has built a loyal following in East Tennessee for its mouthwatering BBQ, steaks, and sandwiches. Opened in 2016, the Calhoun's restaurant in Oak Ridge boasts an unparalleled location along the banks of Melton Hill Lake. Featuring a covered outdoor dining patio and seating around a fire pit, Calhoun's may be the most picturesque place to dine in the Secret City. If you plan on being out and about on the lake before your meal, you can even access the restaurant by boat!
2. Aubrey's
Aubrey's is another one of the best restaurants in Oak Ridge TN with outdoor seating. Aubrey's is known for offering "delightfully delicious and uncommonly creative" comfort food. Guests can expect to find all of their favorite dishes, including Strawberry Salad, Grilled Salmon Tacos, Buttermilk Fried Chicken and Blackened Rattlesnake Pasta. On hot day, cool down with a perfectly paired beverage from their huge selection of draught beers and wine.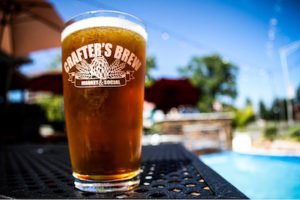 3. Crafter's Brew
Crafter's Brew is a can't-miss destination for beer lovers! This fun beer garden boasts 24 craft brews on tap and a spacious patio where guests can kick back and enjoy a pint. If you're hungry, you can order something tasty from one of the food trucks that frequent the garden. Crafter's Brew also allows visitors to bring food with them, so you can always swing by Big Ed's Pizza and pick up a pie to pair with your beer. Even if you're not a drinker, Crafter's Brew is a great place to hear live music, play games, and relax outdoors. The beer garden is dog-friendly, so feel free to bring your pooch.
4. The Other One
Billed as a diner/deli/dive, The Other One may not be fancy, but it's homemade comfort food never disappoints! The Other One is famous for its delicious burgers, which come in a number of unique varieties, such as the Peanut Butter Bacon Burger and the Pizza Burger. If you're looking for eternal glory on the restaurant's Wall of Fame, you can try tackling their Fatman Burger Challenge, a monster of a sandwich with four ½ pound patties topped with cheese, bacon, condiments, and vegetables.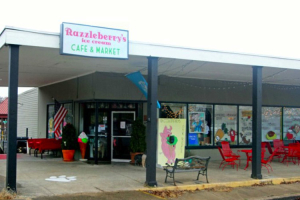 5. Razzleberry's Ice Cream Lab
Razzleberry's is unlike any other restaurant you've ever visited! Located in Oak Ridge's Historic Jackson Square, this eatery features an eclectic mix of traditional Polish food (such as kielbasa and pierogi) and New Orleans favorites (like gumbo and muffulettas). Razzleberry's also offers a variety of international beers and a rotating selection of specialty ice cream flavors. Whether you're in the mood for a full meal or a sweet snack, Razzleberry's patio is a wonderful place to spend an afternoon.
Looking for even more great places to eat in the Secret City? Check out our comprehensive guide to the restaurants in Oak Ridge TN.