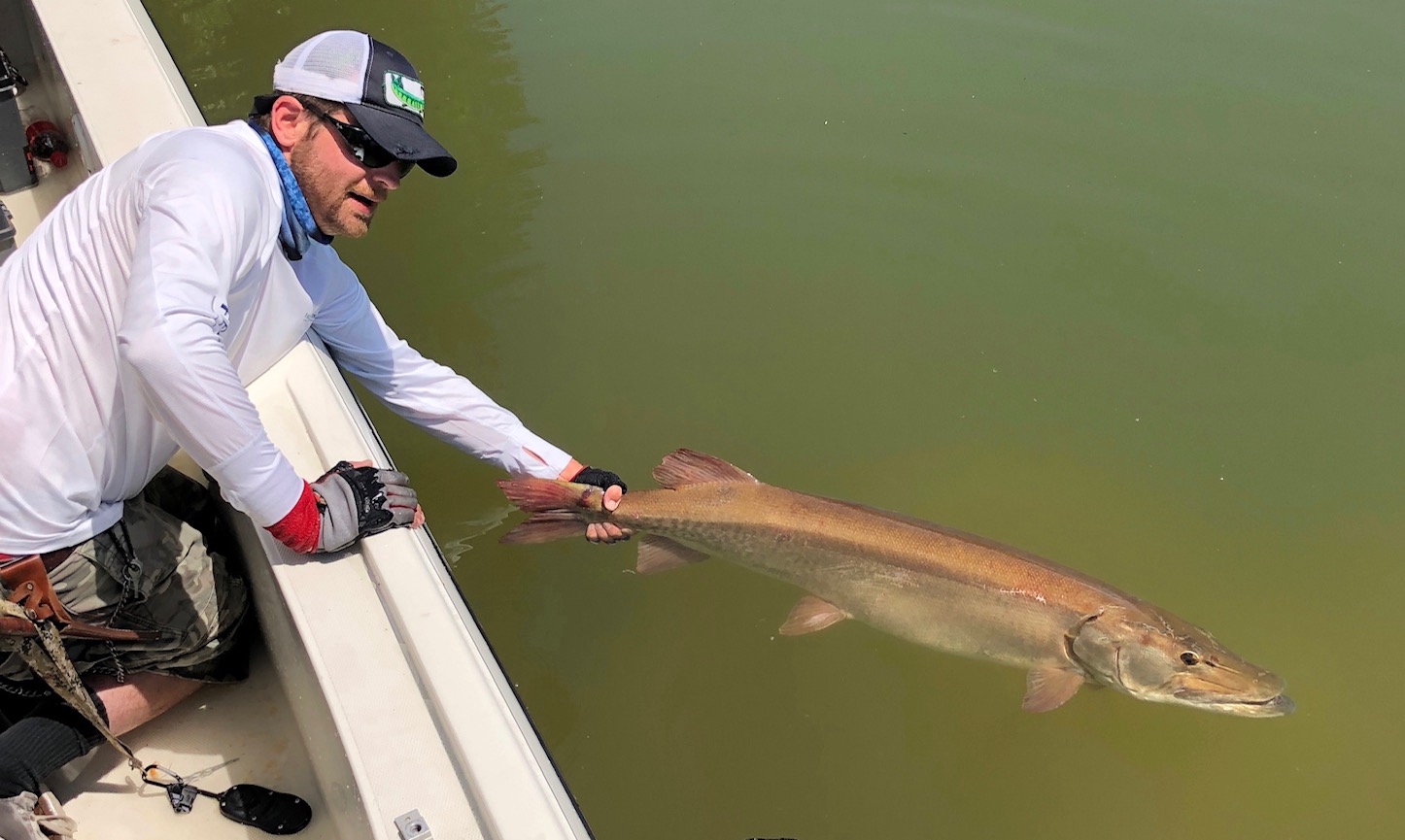 Blog Post Provided by Steven Paul
Here in the South we call them Musky, while in northern states such as Minnesota and Wisconsin many opt for the spelling: Muskie. The Ojibwa First Nations tribe named them Maashkinoozhe, while some folksy old-timers still refer to them as Jacks. Regardless of native tongue or physical location, there is one name for the Muskellunge (or Esox Masquinongy) that nearly all anglers agree on: "The Fish of Ten Thousand Casts".
Musky have earned this dubious nickname by being notoriously difficult to catch.  Often anglers spend endless hours, casting heavy over-sized lures, only to catch a glimpse of the allusive monster before it mysteriously returns to the depths.  Needless to say the pursuit of trophy musky can be maddening for even the most patient of angler.
Regardless of their reputation for frustrating fishermen far and wide, many anglers continue to add catching musky to their "bucket list" as a fish of a lifetime. These same folks are often willing to spend hundreds or thousands of dollars to travel to remote areas of Minnesota, Wisconsin and Canada in pursuit of this allusive trophy fish.
Fortunately for those enthusiastic anglers visiting the Tennessee, they can leave their passports at home, because trophy-class Musky are here and thriving in our local waterways. The stocking efforts of the Tennessee Wildlife Resources Agency along with the steady growth rate of native populations have allowed these toothy predators to flourish in Oak Ridge.
The clean cool waters, mild climate, and rich bio-diversity of East Tennessee's lakes and rivers have created a true "Trophy Factory";  churning out some astoundingly large fish.  I was personally fortunate enough to catch the current Tennessee State Record Musky in 2016 and have recently landed the longest documented fish at 55 inches in length. And as a professional musky fishing guide to both local and out of town clients, I can attest that the Knoxville area has not only quality world class musky fishing but also quantity for those willing to dedicate their time.
Tennessee's mild climate offers musky fisherman a unique experience as one of the few year-round fisheries for musky. During winter months many northern musky destinations are unfishable due to frozen fisheries or local regulation. Fortunately here in East Tennessee water temperatures rarely dip below the mid 40's, so ice is never an issue but more something we add to our sweet tea.
Plan a visit to Oak Ridge's Melton Lake for musky fishing that is a "True Trophy Experience"!