Guest Post by Jenny Anderson, Girl of 10,000 Lakes
The muskellunge, better known as a musky, is also recognized as the fish of 10,000 casts. You'd think this is an exaggeration, but it can absolutely take thousands of casts or sometimes on the rare occasion, just a couple of casts to land this fish of a lifetime.
I recently had the opportunity to go fishing for a Tennessee musky on Melton Hill Lake in Oak Ridge. Thank you to Explore Oak Ridge for inviting my husband Nick and I out for a weekend adventure! As avid anglers in Minnesota, we typically target walleye, lake trout, bass and crappie. On one occasion, I caught a musky by "accident." I was targeting bass with a spinner bait, but a small 11-inch musky decided to hit my lure. Melton Hill Lake would be my redemption, I hoped.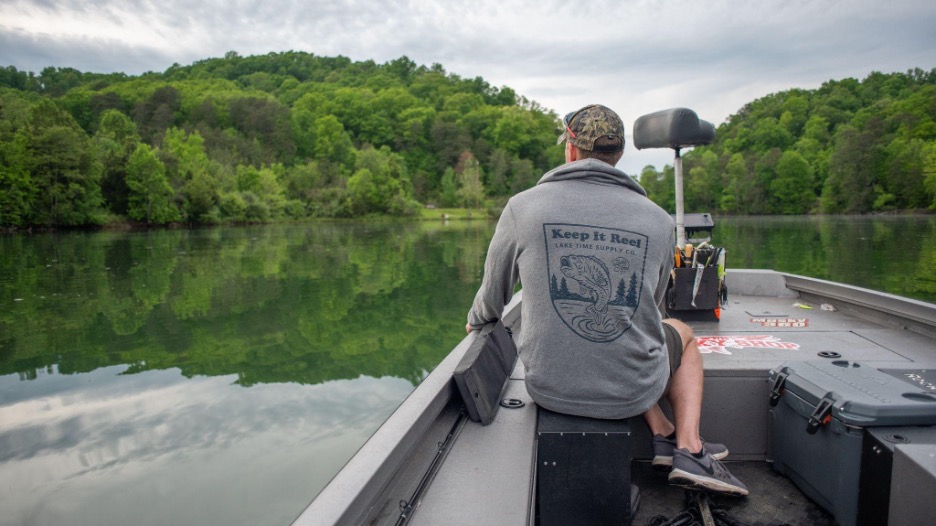 Photo Worthy Views on Melton Hill Lake
Our trip to Oak Ridge was just two nights and three days with two of those days dedicated to fishing on Melton Hill Lake. The 5470 acre lake is surrounded by picturesque hills and the Melton Lake Greenway. The lake's water level is controlled by a dam and the reservoir runs like a slow river – yet it's peaceful and calm. Even on the busiest of weekends, we were able to find some quiet bays to fish on. The lake holds a mixed bag of fish including musky, striped bass, largemouth bass, smallmouth bass, walleye, bluegill, white crappie and black crappie.
Be sure to pack your phone or camera, a portable tripod and a portable power bank to capture some beautiful sunsets as well as a picture of your allusive musky – fingers crossed!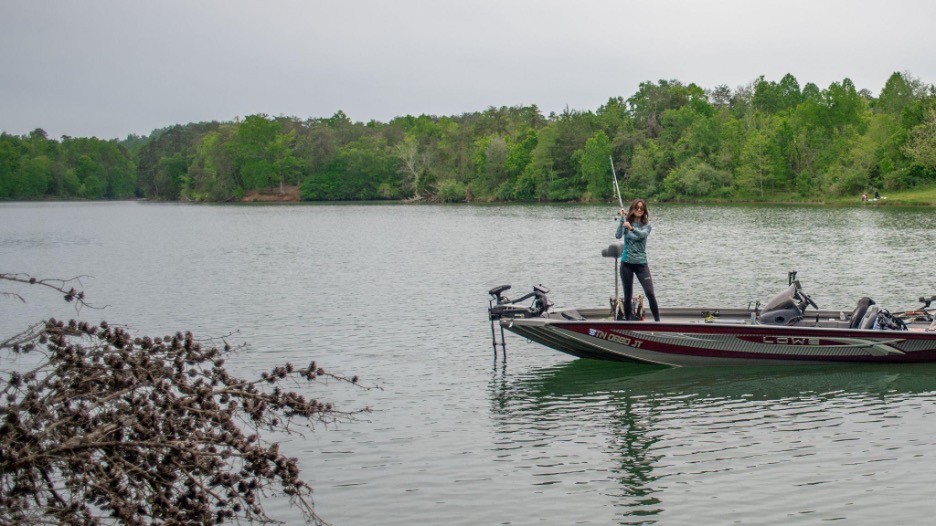 Fishing While Traveling
I'm a big fan of fishing while traveling. It's an opportunity to explore a new lake, target a new species and learn from a guide who knows the local lakes inside and out. We ended up fishing with local guide Steven Paul of Tennessee Musky Guide Service. He also holds the current state record musky at 51-⅜ inch from Melton Hill Lake so I knew the odds of catching a trophy musky would be even better with his knowledge, especially with my limited time in Tennessee.
Tennessee Musky Guide Service picked us up from the boat launch at Melton Hill Lake Park. Since I flew from Minnesota to Tennessee, I really didn't pack much for this fishing trip except for sunscreen, snacks, beverages and my camera gear. The guide service provides all of the musky rods, an endless supply of lures and all of the knowledge needed to fish for musky.
As a musky newbie, I was eager to learn about the sport and Steven took the time to explain. Here are a few pointers that may be helpful for other musky greenhorns:
There's a technique to casting, retrieving and transitioning into a figure 8. More often than not, a musky that follows a lure will slam the bait when the rod is in the middle of a figure 8. That's why it's important to properly cast, retrieve and transition seamlessly to a figure 8.
Practice using a baitcaster as it's the preferred reel for musky fishing. You'll have better control of the line when casting. If you prefer a spinning reel, let your guide know and they can set up a spinning rod for you with an appropriate lure like a spinnerbait. Although you're targeting musky, there's a good chance you'll catch bass with this setup as well.
Set your drag properly so that you don't lose your musky. There's nothing worse than fishing all day only to have your line snap when a monster musky finally hits your lure.
When holding a musky, do it properly and safely. Grab it by the gill plate firmly so that you have control of the head. Always hold the fish with two hands horizontally – one at the gill plate and the other under the belly. It's similar to holding a northern pike.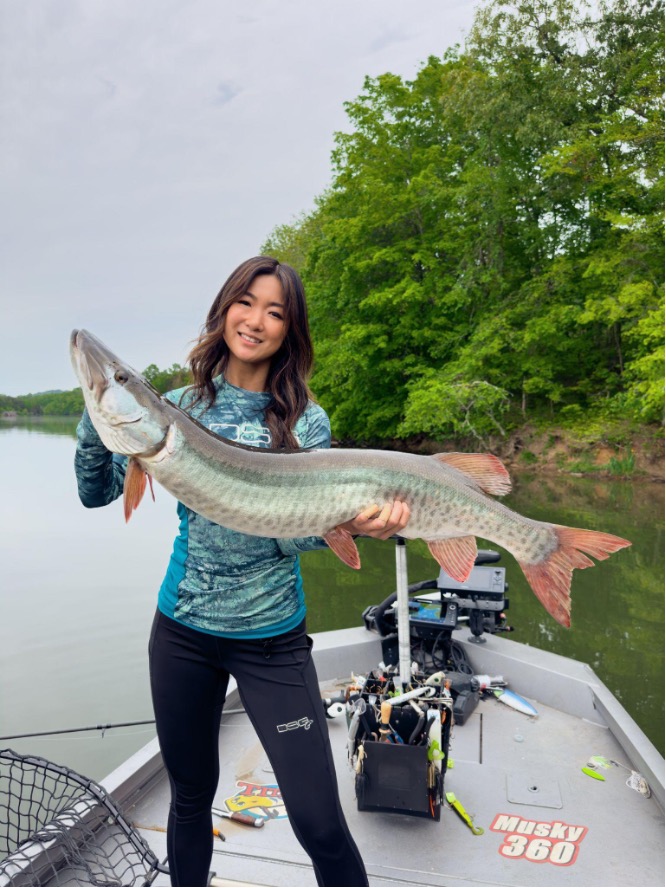 A Memorable Monster Musky
After two days of learning about Melton Hill Lake and its fluctuating water levels, structure and fish patterns in the spring, and spending many hours casting, retrieving, figure 8-ing and trolling, we finally landed a monster musky. It struck a 6-inch Livingston Lure Titan Junior during a retrieve and gave quite the fight before making it boatside. We managed to get the musky close enough to net it. Then it was a quick CPR or catch, photo and release before celebrating and calling it a day! We never took exact measurements but it was a definite whopper of a musky and a true team effort. It's the catch of a lifetime I won't soon forget.
Things to Do After Landing the Musky
It's hard to beat the excitement of landing a musky but we managed to find plenty more adventures in Oak Ridge. The city packs a big punch when it comes to outdoor activities, delicious food, and historic attractions.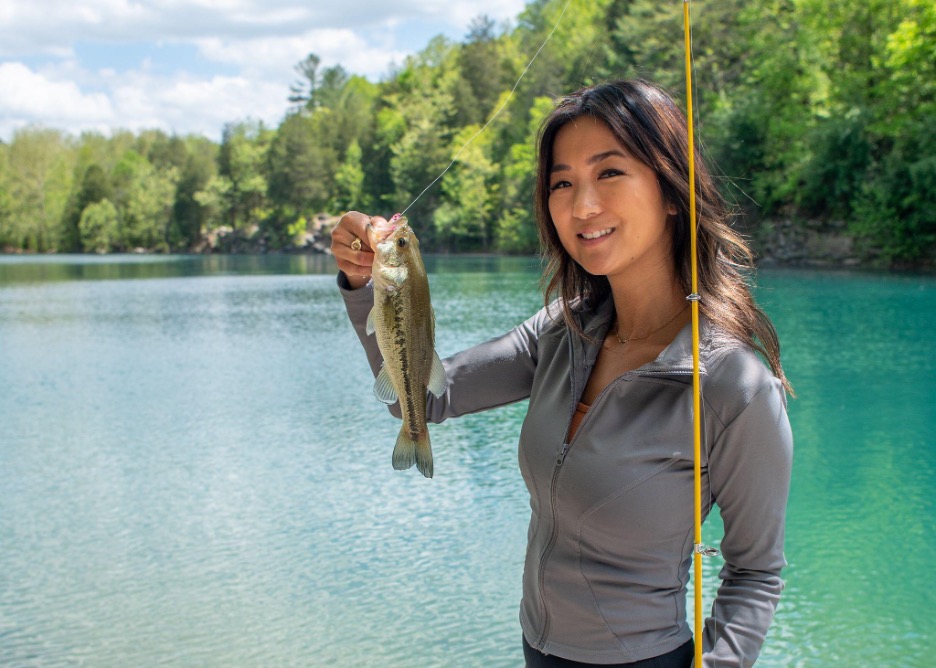 Hiking the East Quarry Road Trail
The East Quarry Road Trail is a must-see for anyone who loves hiking and nature. This scenic route starts at the North Boundary Trailhead and winds through the woods and offers breathtaking views of the surrounding valley. The hike can be as short as 2.5 miles with some elevation but you can make it a longer 4.5 mile loop. The quarry is the star of the trail though. The turquoise water sparkles on a sunny day and if you're able to pack in a fishing rod, take advantage of another opportunity to fish. We carried a couple of telescopic travel rods in my backpack and I caught a largemouth bass with a pink shad swimbait. Just when I thought the fishing was over!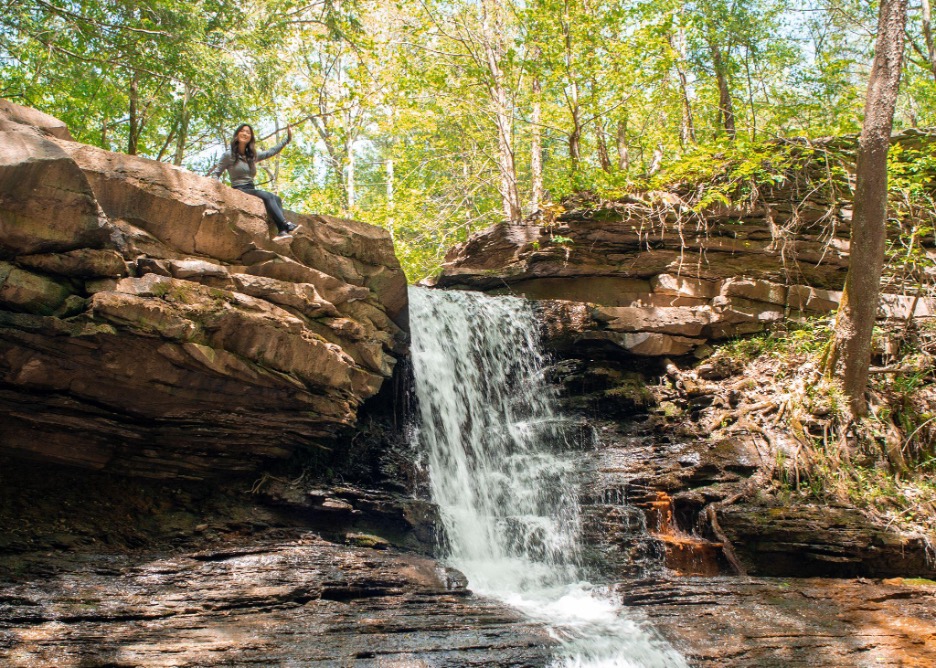 Roadside Scenic Stop: Middle Fork Falls
If you're short on time and looking for picturesque scenery, Middle Fork Falls is a quick roadside stop you won't want to miss. This waterfall is located just a few miles outside Oak Ridge in Oliver Springs and the views of the cascading water are simply breathtaking. It's the perfect spot to snap a few photos and take in the natural beauty of the area.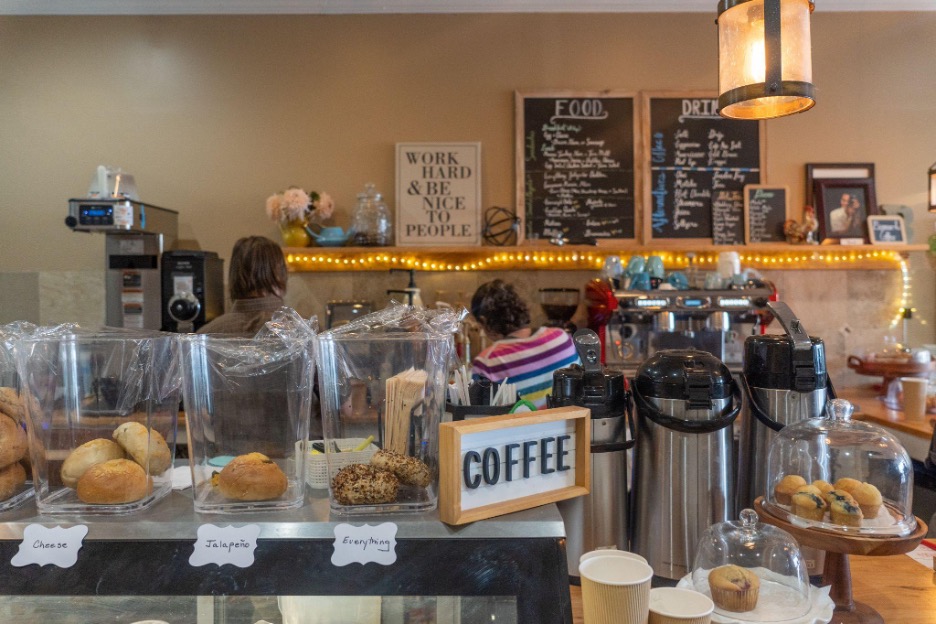 Breakfast at Bud's Farmhouse Coffee
Even before starting the day, we got our morning pick-me-up at Bud's Farmhouse Coffee. This cozy cafe serves up delicious gourmet coffee and tea, pastries and breakfast items. One thing that stood out to me is the community atmosphere. It just felt warm and welcoming while I sipped my huge cup of hot matcha tea latte. We left with a bag of Bud's whole bean coffee and a jar of huckleberry jam to bring back for my parents back in Minnesota.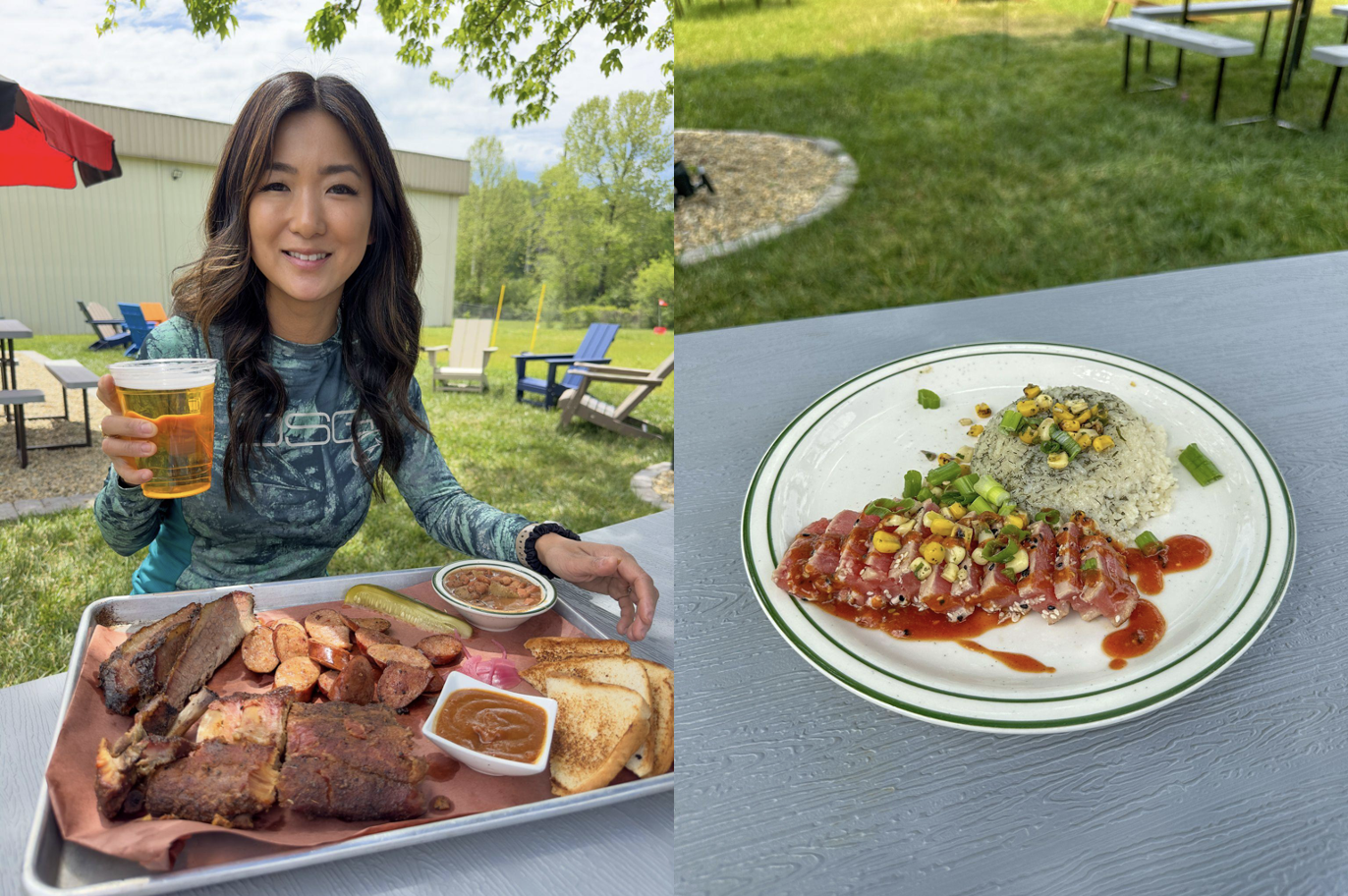 BBQ at Woody's Bar & Grill
Hunger is the best seasoning of all and after a long day of fishing, you just can't say no to a huge plate of smoked barbecue. Woody's Bar & Grill in Oak Ridge serves up some of the best barbecue I've ever had. The menu is versatile and we had to try everything including smoked ribs, brisket, sausage and even ahi tuna. It was finger-licking good. The portions are generous and the prices are reasonable, making it a great spot for a casual meal after a day of fishing. The outdoor patio is especially charming with colorful adirondack chairs, plenty of seating, yard games and an outdoor bar.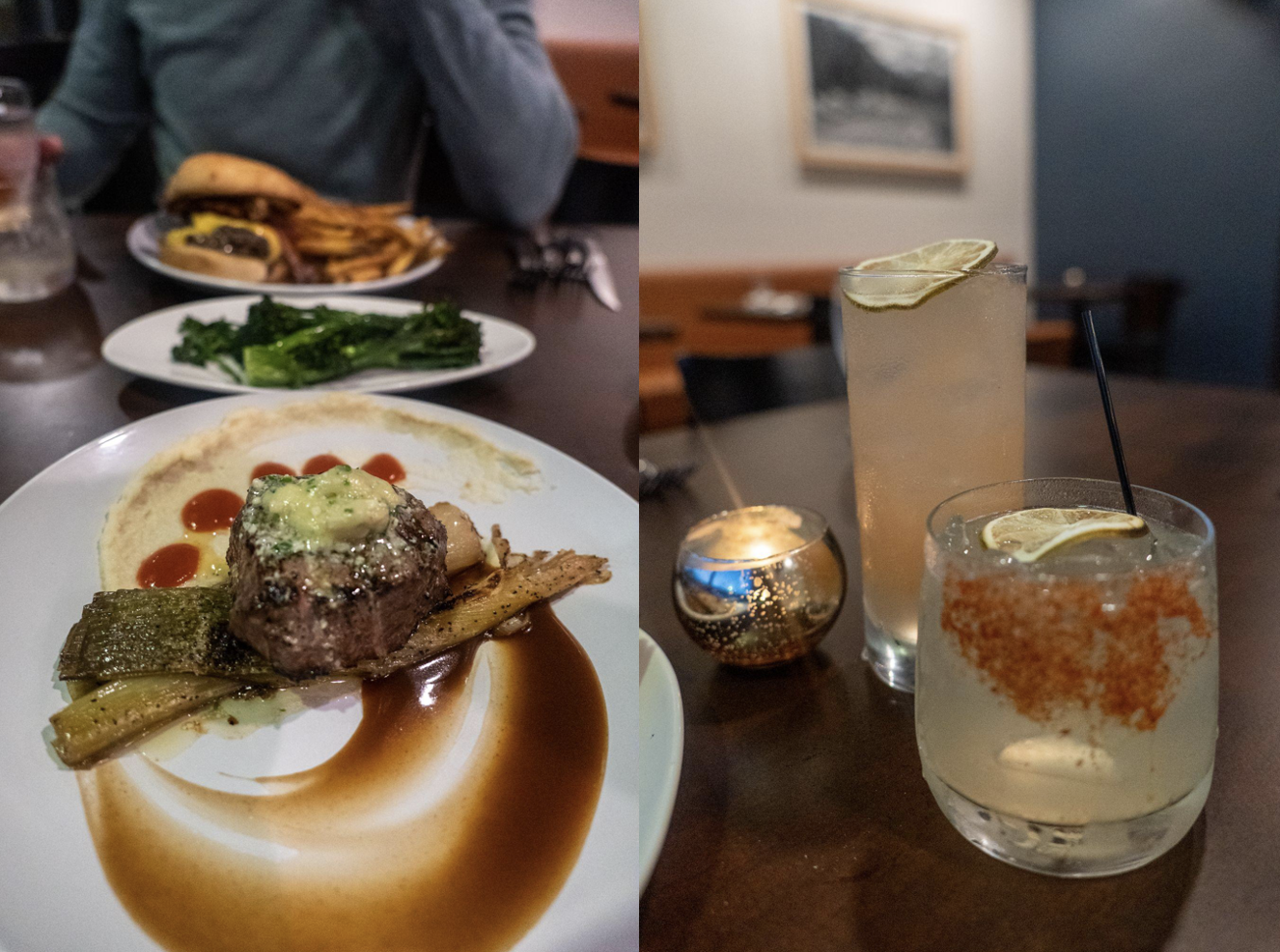 Date Night at Fire & Salt
When visiting a new place without our kids, date night is inevitable. We decided to have a fancier date night while in Oak Ridge at Fire & Salt. The menu is right up my alley with unique cocktails and  shareable appetizers like the Pinto Bean Hummus with a spread of colorful vegetables and Smoked Salmon Carpaccio. I finished off my medium rare Fire & Salt Filet like it was my last meal. It was so good. And Nick said the Fire & Salt Cheeseburger was the best burger of his life! Be sure to save room for dessert because Mama's Pound Cake tastes like a warm chocolate chip cookie and I still dream about it.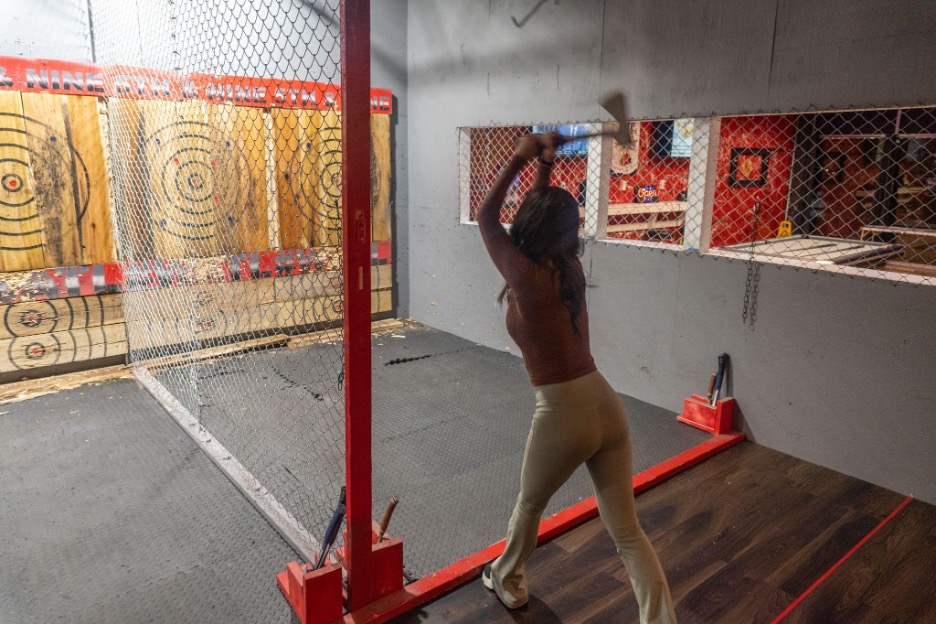 Date Night at Fire & Salt
Date night continued with some friendly competition at 5th & Nine Axe Lounge. This was a first for both Nick and I. Axe throwing is not my normal cup of tea but I thought "new city, new activity!" This indoor axe lounge is perfect for pros and novices. We were shown how to throw the axe safely and effectively on an actual regulation-sized axe range. By the end of the night, we were both making bullseye shots which I couldn't believe!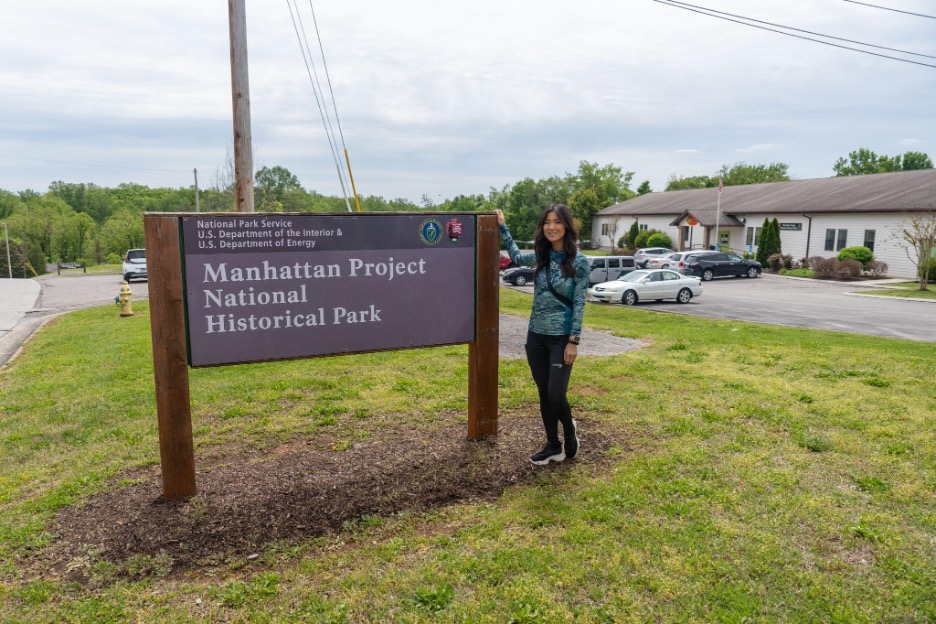 For the WWII History Buffs
Oak Ridge is not only a beautiful place to explore the outdoors but also rich in history. During World War II, Oak Ridge was the site of the Manhattan Project, a top-secret government project that developed the first atomic bomb. Visitors can learn more about this history by visiting the American Museum of Science and Energy and the Oak Ridge History Museum.
Where We Stayed
We flew into McGhee Tyson Airport or the Knoxville Airport which was about a half hour from Oak Ridge. Once we got to Oak Ridge, we checked into the Holiday Inn Express. I almost forgot how amazing it is to have your room cleaned every day with clean towel deliveries as well as a continental breakfast.
Plus, southern hospitality is a real thing. I absolutely loved everyone I talked to at the airport as well as the Holiday Inn Express in Oak Ridge. The gal who checked us in set us up in her favorite room which happened to have vaulted ceilings and a king bed. Everyone had something nice to say wherever we went and both Nick and I looked at each other and thought, this must be what southern hospitality looks like.
Overall, our trip to Oak Ridge, Tennessee was one for the books. Whether you're a thrill seeking musky angler looking to land a trophy or an outdoor enthusiast, a foodie or a World War II history buff, Oak Ridge has something for everyone.