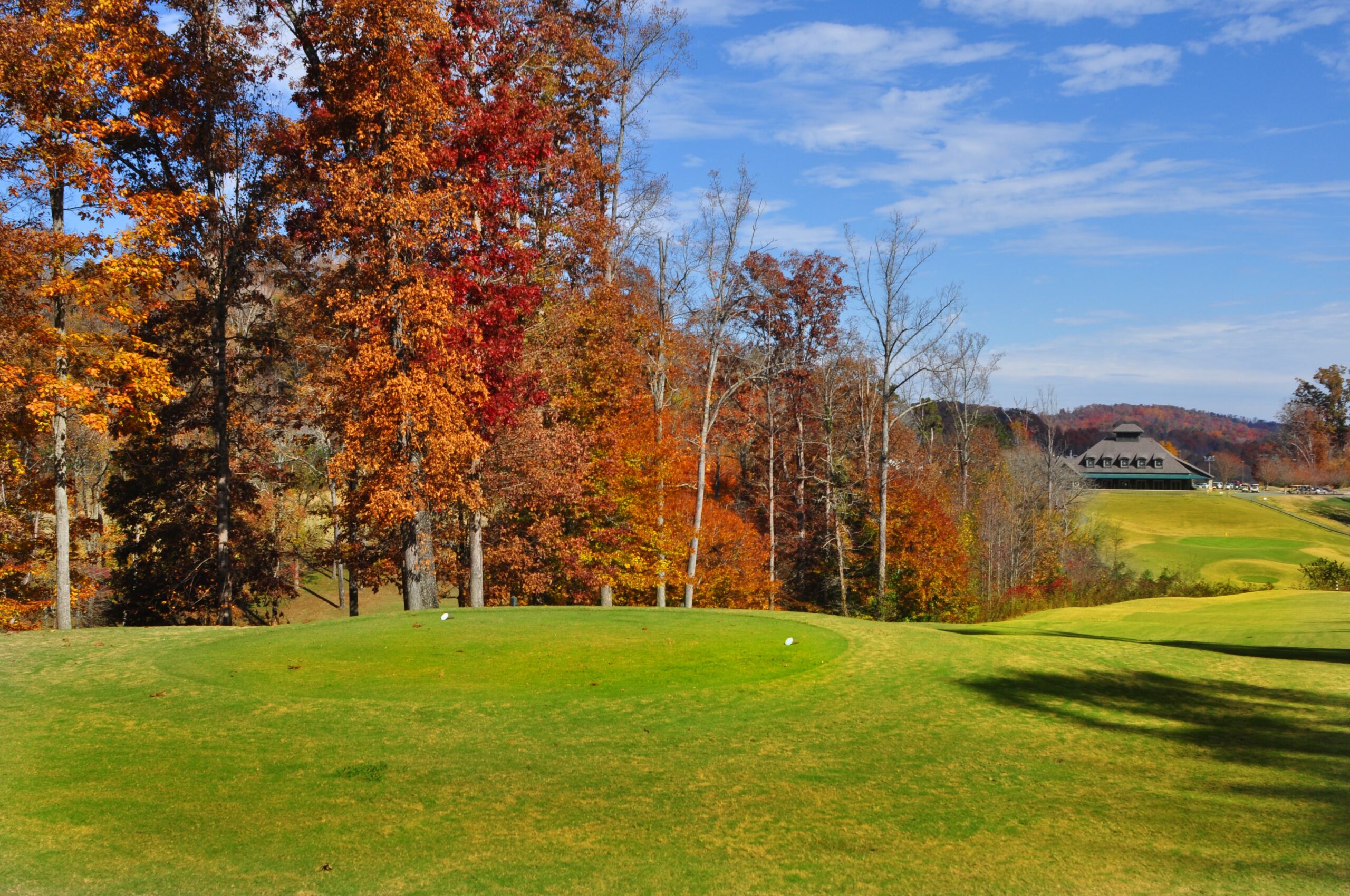 Centennial Gold Course in October.

Oak Ridge has an interesting and varied history! These days, it's a far cry from the old Secret City, and it's a lovely place to spend some time, especially if you're into the outdoors.
There are plenty of things to do here. Biking, paddleboarding, swimming, rowing, walking, and golf—regular and disc—are some of your options.
While we recommend trying all of them, we're a little biased. Here are a few of the reasons we think golf is the perfect sport to take you outdoors in Oak Ridge!
You Can Be Social… Or Not
Find yourself alone for the day and not sure what to do? Golf is the perfect activity for some alone time! Or maybe it's time for a catch-up with family or friends. Guess what… Golf is ideal for that too.
Whether you're looking for something to do by yourself to kill a few hours or you want to get out and about with friends (or even secure some business deals!), the golf course can accommodate you.
Whatever your mood, the golf course is the best place to work through it. Feeling a bit down? Need to blow off some steam? Or are you in a great mood and want to spend some time in a place you love? The golf course is there for you!
It's Suitable for the Whole Family
When you're looking for something suitable for the whole family to enjoy outdoors, some things are easy to cross off the list. Paddleboarding is a no-go if kids can't swim. Biking may be a little too dangerous. And shopping just isn't for everyone.
Golf, however, is the ideal sport for just about everyone. Adults will easily walk the course, even if it is slow. If you've got kids in tow, you can teach them the ropes on the course, or opt for mini golf instead. Otherwise, try disc golf, which is totally not the same thing but follows a similar concept.
Even senior family members can enjoy the golf course, as the sport is easy on the joints, low-impact, and the course can be traveled by golf cart instead of walking!
There's Always A Golf Course Nearby
There are a whole lot of lovely golf courses well within driving distance of Oak Ridge. If golf is what you want to do, you're spoiled for choice!
Local Golf Courses In Oak Ridge You Should Visit
The lovely Centennial Golf Course is open to the public and offers a fun yet challenging round for golfers of all abilities. It requires strategic thinking in order for you to get a good score, but that's part of what makes it a great course.
You can also visit the clubhouse and grille for a meal and a post-round drink, which makes it a nice, well-rounded experience for all family members. The Golf Pro offers access to a Foresight Launch Monitor and V1 split screen video analysis to accurately diagnose and correct your golf swing. The Golf Academy is a 2000 sq ft indoor facility which is weatherproof and allows for year-round golf instruction. Just call and set up an appointment!
If you're going to be around for a while, you can take advantage of the "Stay-and-Play" special. Stay in an Oak Ridge hotel for a luxurious, relaxing night, and get discounted green fees for a round.
If luxury and chill time is on the agenda, then you can't beat this deal. It's available until September 5th, so don't miss out!
If you're short on time and want to play a fun and unique course, the Patch is worth a few hours of your time.
Featuring just 12 par-3 holes, it's more undulating and less forgiving than it first appears, so take your time and be thoughtful with your shots.
You can also take advantage of the 300-yard driving range, putting and chipping greens, and even an indoor hitting bay for something different.
With beautiful views over East Tennessee, it's the perfect place to practice your short game and enjoy some time out in nature.
The Country Club is a sports person's paradise, with golf, tennis, and swimming. Golfers will love the 18-hole layout, which has hosted the Tennessee PGA Championship.
The parkland course offers a good challenge for golfers of all skill levels, with a good range of straightforward ground and challenging slopes.
They also have a full range of practice facilities! The Country Club is a private course, but if you are close by, it is a great course to join. Contact the Country Club for membership options.
Conclusion
This area is an outdoor lover's paradise. But we stand by the fact that golf is the perfect sport to take you outdoors in Oak Ridge! It's relaxed, it gets you in the fresh air, you can do it with your loved ones, and it's just beautiful. What more do you need to convince you? Play a round at one of Oak Ridge's golf courses! You won't regret it.